While some organizations were concerned with the complex setup of a video wall controller, most organizations avoided video wall controllers in the past because of the cost. Years ago, video wall controllers would have cost you anywhere between $50,000 and $100,000. Today, you can get one for less than $3,000. But the setup and the cost were not their only concerns. Adding a video wall controller also meant adding hardware and/or software.
Today, however, with the increasing demand for video walls with customized layouts and designs, the limitations of video wall scalers that are built-in to the video walls, have become a recognized problem, paving the way for video wall controllers to be a part of just about every video wall deployment.
Here are three scenarios where video wall controllers are a must:
When you want to display multiple sources on any portion of your video wall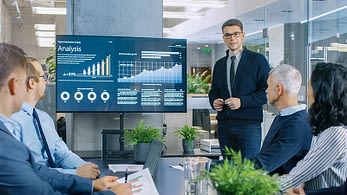 Built-in video wall scalers typically don't allow you to show different sources on your video wall on different screens (i.e. portions of your video wall). Video wall scalers are limited to a single source. But video wall controllers eliminate this limitation. With their "videowall zones" feature, you can allocate any section of your video wall to any source you want.
When you want to deviate from standard layouts, aspect ratios, and resolutions
Traditionally, standard video walls had an aspect ratio grid layout of 16×9. But what if you wanted to use a different aspect ratio grid layout such as 1×5 or 1×10?Abuilt-in scaler cannot support that. Even if some did, you would get poor quality content because the source resolution will still be limited.
The same can be said about resolutions. The best video wall scaler on the market today can go up to 4K resolution, while most can only support up to 1080p. But if you're hoping to future-proof your investment and plan beyond 4K, like to 6K, 8K, or even higher without losing quality, you'll need a video wall controller.
When you want to go beyond the same old portrait or landscape mode
Video wall scalers can only output content onto a grid-configured video wall, either portrait or landscape, but many organizations today are looking for non-traditional shapes. While some may want a T-shape or an L-shape video wall, others may want to build a video wall covering an entire wall built around doorways. And why shouldn't they? With today's modular and flexible LED technology, organizations shouldn't be limited. In an attempt to maximize space or make an impressionable effect, many organizations are turning to artistic or mosaic-styled video walls.
Today, the only way to achieve this is with a video wall controller that can handle non-standard video wall configurations.
What else can you do with a video wall controller?
Get control. Video wall controllers are all about providing control. You can control the display of your content in a synchronized manner in any configuration you like. You can have interactive content or work with multiple content sources at once. You can share selected content onto other video walls, desktops, or mobile devices on your network. Some video wall controllers that are interoperable and based on open standards would allow you to control any type of content source, whether IP or baseband, on any type of display, whether LED, LCD, Micro LED, or projector, in any size, resolution and aspect ratio. 
Professional video wall controllers are sold with advanced video wall management software for the management and configuration of content and devices, giving both integrators and end-users more control and flexibility with the help of an intuitive user interface, and interactive API, and advanced scripting tools. 
Conclusion
Video wall controllers are, without a doubt, required to drive today's modern video wallsin order to optimize video wall performance, have the flexibility to easily manage content, increase workplace efficiency and enhance visualization experiences. VuWall'sVuScape series of high-performance video wall controllers provide extreme flexibility. Fueled by its TRx software platform offering advanced video wall control and AV distribution, VuWall provides the most efficient control and distribution of any source to any display throughout organizations.